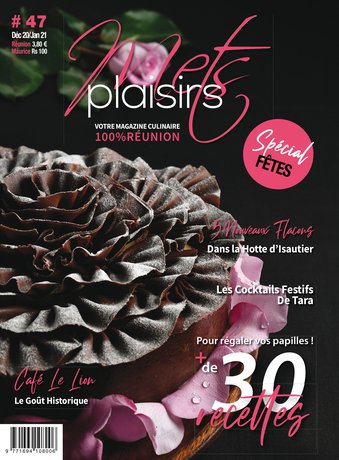 Mets Plaisirs
Issue : 47
Date : 23/12/2020
Mets Plaisirs
Local and classic flavours
Island folk typically enjoy a good get-together, best exemplified when sharing a meal. Mets Plaisirs is full of ideas for a gathering of friends or family, with recipes from master chefs for colourful homemade local dishes and more, often using seasonal fare.
Destined for both large and gourmet appetites throughout the Southwest Indian Ocean, this quality magazine appears every two months in Mauritius and Reunion Island. It is full of delights and a fine ode to our local styles of cookery.
Saveurs classiques et typiques revisitées
La convivialité est une caractéristique des gens des îles. Et c'est autour d'une assiette qu'elle s'exprime le mieux. Recettes de grands chefs à base de produits de saison, petits plats couleur locale faits maison… Le magazine Mets Plaisirs est une mine d'idées pour réunir amis et famille.
Destinée aux gourmets et gourmands de tout l'océan Indien, cette publication de grande qualité est distribuée tous les deux mois à La Réunion et à Maurice. Un véritable concentré de plaisir et une belle valorisation de nos cuisines locales."
The old issues of Mets Plaisirs
Subscribers who read Mets Plaisirs also liked :