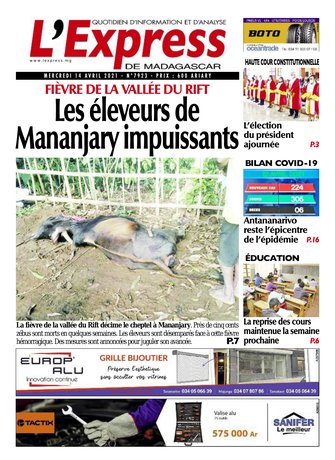 L'Express
Issue : 7923
Date : 14/4/2021
À LA UNE
L'élection du président ajournée
L'identité du nouveau président de la Haute cour constitutionnelle n'est pas encore connue. Les hauts conseillers ont cogité sur un éventuel réaménagement des textes sur l'institution, hier. Inédite....
Leading daily
One of Madagascar's leading daily newspapers, L'Express de Madagascar was founded in 1995. Its strength lies in the quality of its articles, the result of an in-depth approach free of any partisan bias and the pertinence shown by its journalists and its cartoonists, as well as its bilingual features.
To develop its publications and strengthen its media cluster, the Prey Group, the publisher of L'Express de Madagascar, entered into a partnership with La Sentinelle in 2004 – a good example of regional co-operation.
The old issues of L'Express
Subscribers who read L'Express also liked :