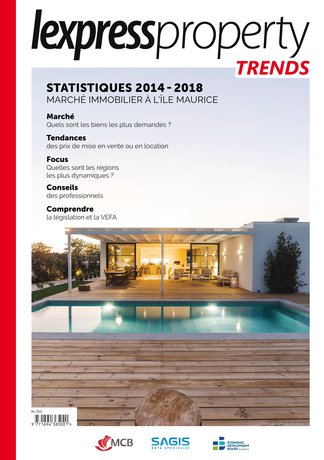 l'Express Property Trends
Issue : 1
Date : 5/8/2019
LexpressProperty Trends
the very first property barometer of Mauritius!
LexpressProperty.com would like to provide, through this guide, an overview of the market evolution in terms of demand and supply related to market entry prices (sale and rental) of property units advertised on its website from 2014 to 2018. It also aims at giving an insight into the specificities of this complex market, as well as into current and future projects, not to mention key stakeholders (agencies, developers, banks, notaries…) of the Mauritian real estate sector.
l'Express Property Trends
La référence de l'immobilier Achat, location court ou long terme, vacances, projets neufs ou biens Property Development Scheme… votre bonheur se trouve sur LexpressProperty ! Son site web cumule plus de 14 500 annonces et réunit chaque mois plus de 185 000 sessions. Le magazine est imprimé à 31 000 exemplaires et distribué à travers l'île. Il propose en plus des annonces, les dernières actualités du secteur ainsi que des astuces et conseils pratiques pour aider ses lecteurs à réaliser leur projet immobilier.
The old issues of l'Express Property Trends
Subscribers who read l'Express Property Trends also liked :