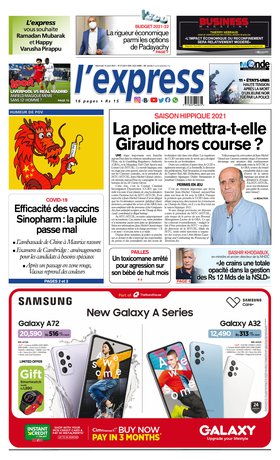 l'express
Issue : 21220
Date : 14/4/2021
PREMIÈRE PAGE
La police mettra-t-elle Giraud hors course ?
UNE étape importante sera franchie aujourd'hui dans les relations tumultueuses entre l'État, via la Gambling Regulatory Authority (GRA), et la Mauritius Turf Club Sports and Leisure Ltd (MTCSL). Le...
l'express
The most influential news media    
A quality for informative daily, l'express is Mauritius' leading independent newspaper. Being a forum debates on the major social, economic and political topics, it stands for the principles essential for the country and its citizens to progress.
l'express
Le média le plus influent    
Journal de qualité et de référence, l'express est le principal quotidien indépendant de Maurice. Lieu de débats sur les grands enjeux sociaux, économiques et politiques, il défend les principes qui assurent l'avancement du pays et de ses citoyens.
Avec plus de dix millions de pages vues par mois, lexpress.mu est le premier site d'info en ligne de la région océan Indien. Chaque jour, les rédactions produisent une trentaine d'articles et de vidéos pour garder le lecteur connecté 24 h/ 24 aux grands faits de l'actualité.   
Lire ici (www.lexpress.mu) la version en ligne de l'express 
The old issues of l'express
Les numéros suppléments gratuits
Subscribers who read l'express also liked :