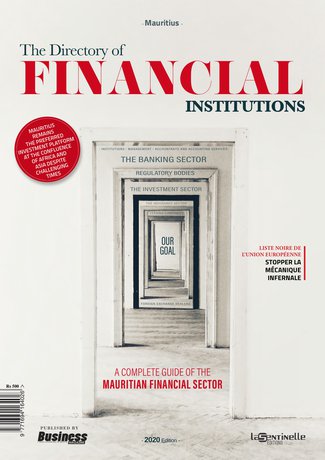 Directory of Financial Institutions
Issue : 3
Date : 10/7/2020
The Directory of Financial Institutions
Find the right partner
One of the most important pillars of the Mauritian economy, the financial sector is continually seeing new entrants. The directory includes banks, leasing companies, insurance and re-insurance companies, offshore management companies, credit institutions, stockbrokers and regulatory bodies. It is particularly useful to individuals and companies seeking to identify appropriate business partners in specific fields.
Trouver le bon partenaire
L'un des piliers les plus importants de l'économie mauricienne, le secteur financier voit continuellement de nouveaux entrants. Le répertoire comprend les banques, les sociétés de crédit-bail, les sociétés d'assurance et de réassurance, les sociétés de gestion offshore, les établissements de crédit, les courtiers en valeurs mobilières et les organismes de réglementation. Il est particulièrement utile aux particuliers et aux entreprises qui cherchent à identifier des partenaires commerciaux appropriés dans des domaines spécifiques.
The old issues of Directory of Financial Institutions
Subscribers who read Directory of Financial Institutions also liked :