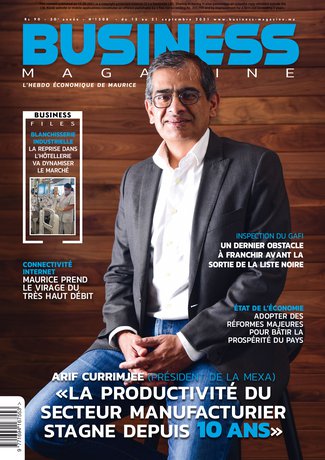 Business Mag
Issue : 1508
Date : 15/9/2021
Business Magazine
Featuring the regional economy
A monthly magazine and of similar importance to the business community as its Mauritian counterpart, Business Magazine océan Indien covers activities, news and views of relevance to the whole of the Indian Ocean region.
Le pouls de l'économie 
Rendez-vous incontournable du monde des affaires, Business Magazine est la vitrine des activités économiques du pays. Il donne la parole aux experts de tous les secteurs d'activités et traite des problématiques qui préoccupent les décideurs et les dirigeants.
Une fois par mois, Business Magazine adopte une approche régionale et s'ouvre à l'actualité des acteurs économiques de l'océan Indien.
The old issues of Business Mag
Les numéros suppléments gratuits
Subscribers who read Business Mag also liked :